Access Control in Johns Creek
Step up Your Security System
Nowadays, it is becoming difficult for businesses to manage numerous keys. A key can be duplicated, stolen or lost. Sometimes, employees often forget to return their keys to employers on leaving their job. It can be a serious threat to your business. Securing assets, staff members, and premises is always an issue for a company. Undoubtedly, access control sytem can solve this problem.
What is Access Control?

An access controls system can authorize and authenticate individuals to access important information they can use and see. Locksmith Johns Creek LLC offers high-quality entry and door access solutions for your company. Our experts can deal with the basic needs of Access Control from proximity readers and keypads for a single entry door to computer-based door systems. Our locksmiths are trained on advanced access control security products.
Our experts can install, maintain and quote an entry system and execute repair work to a current installation. A perfectly installed and well-designed system will help you to run your business efficiently without any security threat.

Why do you need an access control system?

If you want to control access of visitors or staff to particular areas in your premises, you will need access control. It will eliminate the need for a traditional key and lock method. Access control will help you to increase the security of your business electronically. The system allows you to use proximity devices, readers and keypads instead of keys and locks.
You will operate this system to determine who, when and where personnel can access data. To get entry, personnel will use PIN numbers, fobs, proximity card or any secure option. Moreover, you can use a fusion of PIN and RFID Proximity. For low traffic areas, it is a convenient system. It is equally suitable for high traffic locations, including offices and hotels.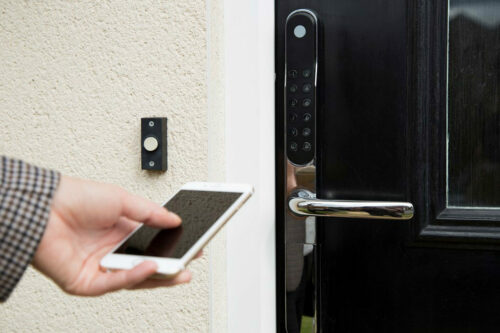 Access Control in Johns Creek
Locksmith Johns Creek LLC specializes in access control systems. This includes everything from card readers to buzzer systems. If you are in Johns Creek Georgia and your home or business is in need of a professional access control system then give us a call today. These systems are a great way to prevent unwanted intruders or visitors onto your property without prior authorization.
Card Readers
Installing a card reading system is one of the easiest ways to restrict yet allow free flow access to those already authorized to be to have access. A card reader is set up next to a door so that when it is scanned it will unlock the door for that person to enter. Once closed the door will automatically lock behind them. This enables a secured entry way without the need for a security guard on duty.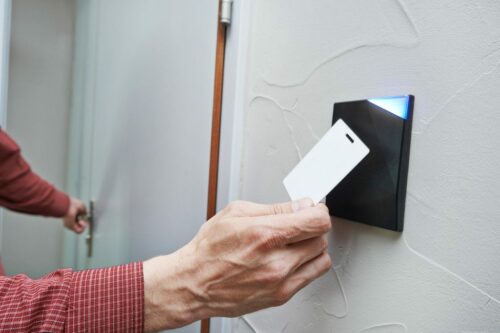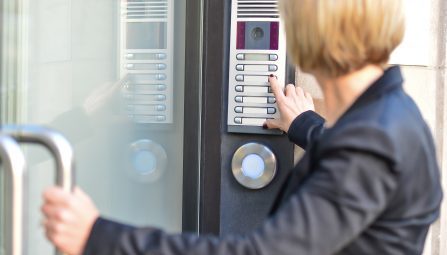 Buzzer Systems Johns Creek
Installing a buzzer system is a great way to manage the entry way of a multi-unit property. They also work wonders for businesses who wish to maintain a private entry way with only authorized users allowed to enter. Buzzer systems in Johns Creek, GA is what we do best.
Advanced Technology

If you want access control, invest only in high-quality access cards, equipment, keypads, fobs or tokens. The systems can increase the functionality of your company. You will get the advantage of time management, a database for assets and employees, and identity verification information. You can immediately adjust the access permissions of visitors or temporary contractors. Moreover, it will be easy for you to quickly delete or misplaced or lost tokens and cards without any security risk. Users can get operator privileges with necessary permissions to an administrator.
Why prefer access control instead of traditional locks?
Easy to Use
Keeping Each Building Secure
Flexibility of Control
24 Hours Protection
Event Reporting: Explains when who and where
Central Control to Manage the System
Text and Email Alerts
Link with CCTV System
Design Your ID Cards
Link with Fire Alarm

Additional Security with Simple and Smart Door Entry Systems
Locksmith Johns Creek LLC offers a special maintenance schedule for property and equipment to ensure it stays in good shape. Contact us for more information.
Specializes in Access Control

Locksmith Johns Creek LLC offers a unique access control system. The system includes every component, from buzzer systems to card readers. In Johns Creek, Georgia, give us a call and get a professional access control system. These systems will help you to avoid unwanted visitors or intruders on your property without any authorization.
Keypads

In access control, you can use keypads instead of scanning a card. You have to punch a code in the keypad to access an area or information. For keypads, you should know the accurate passcode. Sometimes, people prefer keypads in combination with card readers for added security.
At Locksmith Johns Creek, Georgia, we have an experienced team, in-depth understanding of the latest technologies and intense strategic planning. With our years of experience, we offer peace of mind to our clients through our technology implementation and qualified talent.